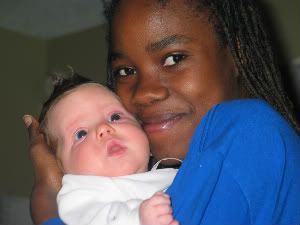 Maya loves words! She wants desperately to have a great big fancy vocabulary, but she doesn't really know how to use the words she's learning or how to express herself with more than ordinary words. So, she frequently makes up words.
Last week, a friend gave me some very nice shoes. I told Maya they were very expensive shoes and it was a generous gift. She said: Oooooooh, those are so nice! They're . . . antique!
I told her what antique means.
She said: Oh, I just use that word when I want to say that something is really nice.
Well it doesn't quite work that way, dear.
Yesterday, I came downstairs to find the kids huddled around Kyle in the kitchen. He was making sandwiches. I asked: What's so interesting here?
Maya: Oh, we're just telling Dad what consonants we want.
Huh?
Kyle: You mean condiments.
Maya: Right, I meant continents.
Kyle: ConDIments.
Maya tried two more times before pronouncing it correctly.
Meanwhile, we're saving our vacation money to go on a
truce
. Maya's never been on a big ship before. It's very exciting.
{{giggle}}